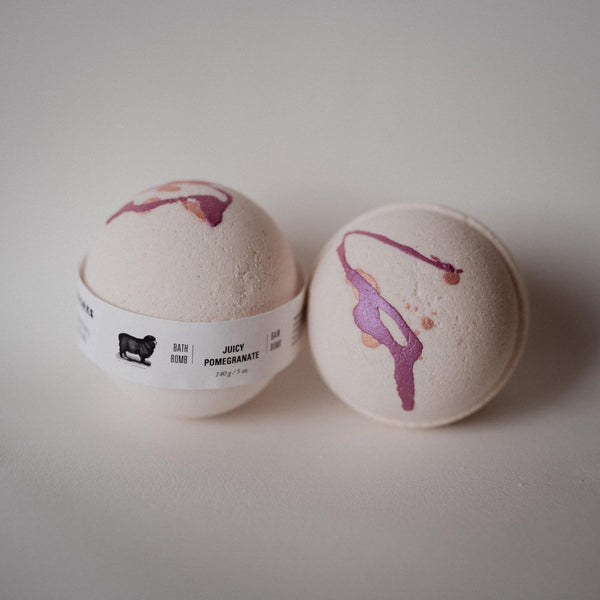 'Lambs Soapworks' Juicy Pomegranate Bath Bomb
Enjoy a moisturizing soak with this seasonal bath bomb formulated with epsom salts, unrefined cocoa butter and non-GMO sunflower oil.
This limited release bath bomb is scented with juicy, lush, ripe and fruity pomegranate with top notes of orange, grapefruit and pomegranate, middle notes of blueberries, violet, and peach over a base note of musk. 
Coloured naturally with French pink, red, and yellow clay to help detoxify and give your skin a lovely slip fresh out of the tub.
Ingredients: Sodium Bicarbonate (Baking Soda), Citric Acid, Magnesium Sulfate (Epsom Salt), Hamamelis Virginiana (Witch Hazel) Water, Helianthus Annuus (Sunflower) Seed Oil, Parfum, Kaolin Clay, Theobroma Cacao (Cocoa) Seed Butter, Mica.
Details:
Weight: 140 g. / 5 oz.

Vegan.

Packaged in 100% biodegradable & compostable BIOLEFIN™ shrink wrap.
Maker: Lambs Soapworks